By:Uma Ribeiro and Casandra Arreola
Staff Writers
Hammond's Cheerleading team spotted some great moves over the past month at various football games, and they are nowhere near over yet! With the end of the Pep Rally, parade and Homecoming Game just two weeks ago, the girls are more ready than ever to work together to spot some new routines and perform in two competitions at the end of this month.
When the music came on and the cheer team came out at the pep rally, the crowd of Hammond Students began cheering louder than the speakers booming with music, whether cheering for their friends on the squad, or just excitement from seeing the team perform.
The group was recognized at the pep rally, with many upperclassmen and a few freshmen on varsity, before giving an astounding performance, with several counts and stunts in which two bases threw a teammate into the air.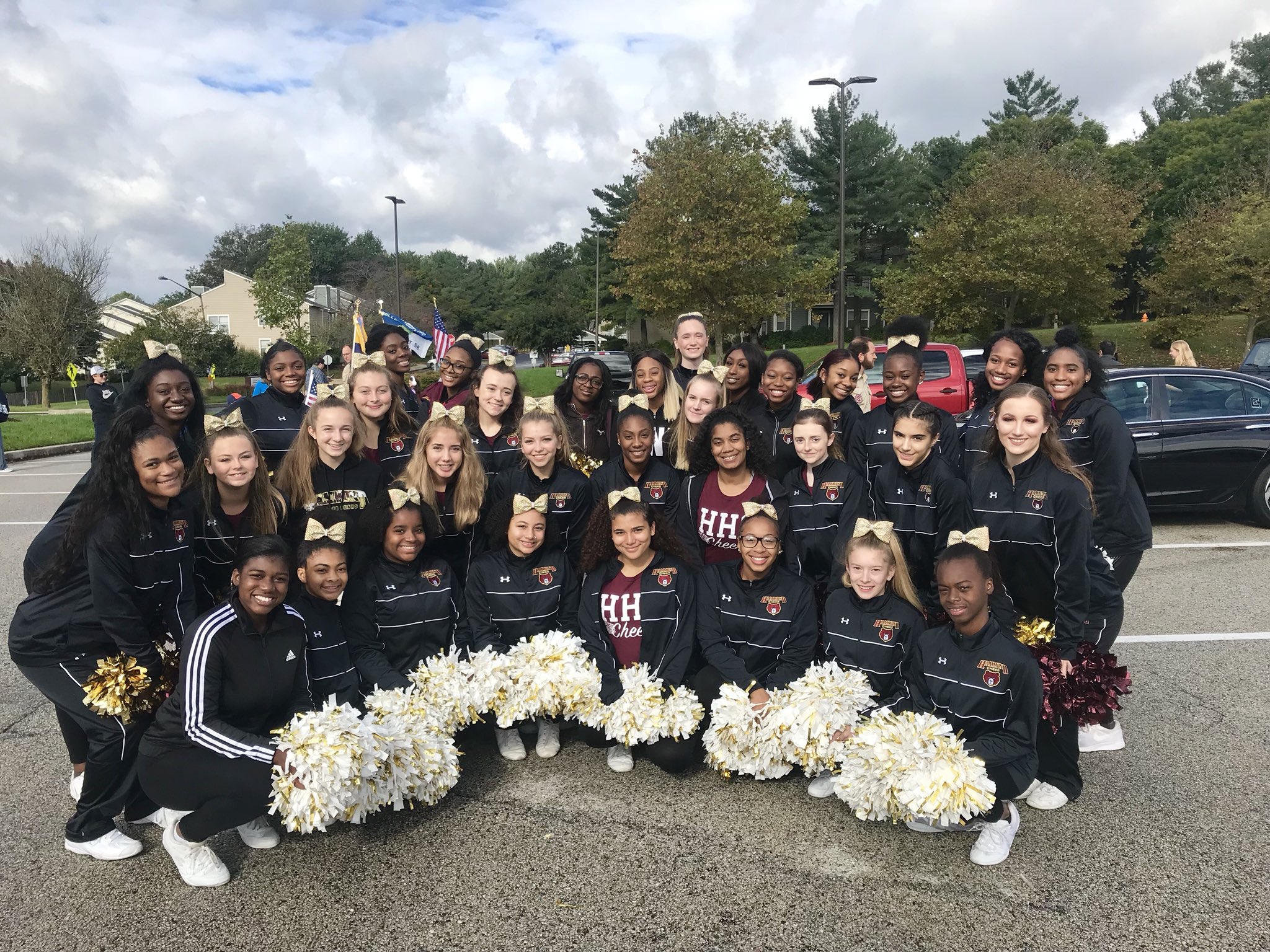 Right after performing, the squad of twenty-four, their energy levels looking high despite having performed for over ten minutes, cheered for the many football players, keeping their pom-poms in the air the entirety of the time it took the players to be recognized at the rally. Their pep rally and homecoming game performances were successes, and they are confident that they will be prepared for their three competitions, which are taking place on the 24th, 27th, and 30th of October.
Two of the three competitions take place at River Hill High School and the third at Oakland Mills. On October 24th, yesterday, they had participated in one of the two competitions at River Hill. The first two are Invitationals, in which the team goes against any other high school teams in the state of Maryland that sign up or are invited to compete, including Montgomery County and Anne Arundel County schools. After performing at two invitationals, the girls go to Counties, in which they compete against schools only within Howard County.  
Counties is the most important competition, while the invitationals are more like warm-ups, according to Junior Esmeralda Puga. "The invitationals are more to get your jitters out. They're preparing you to be comfortable on the floor and doing the routines for the competitions. There's opening jumps, tumblings, stunts, there is separate sections in the stunts and then there is a dance at the end."
What are the cheerleaders doing to prepare for their upcoming competitions? Well, to start with, performing at the Pep Rally, parade and Homecoming Game has begun to prepare them, as well as their many appearances at football games. For regular performances the girls practice every single day after school for two and a half hours, so for competitions they have even more they have to do to prepare. When competitions are approaching, as they are now, the squad not only practices every day after school, but on Saturdays as well.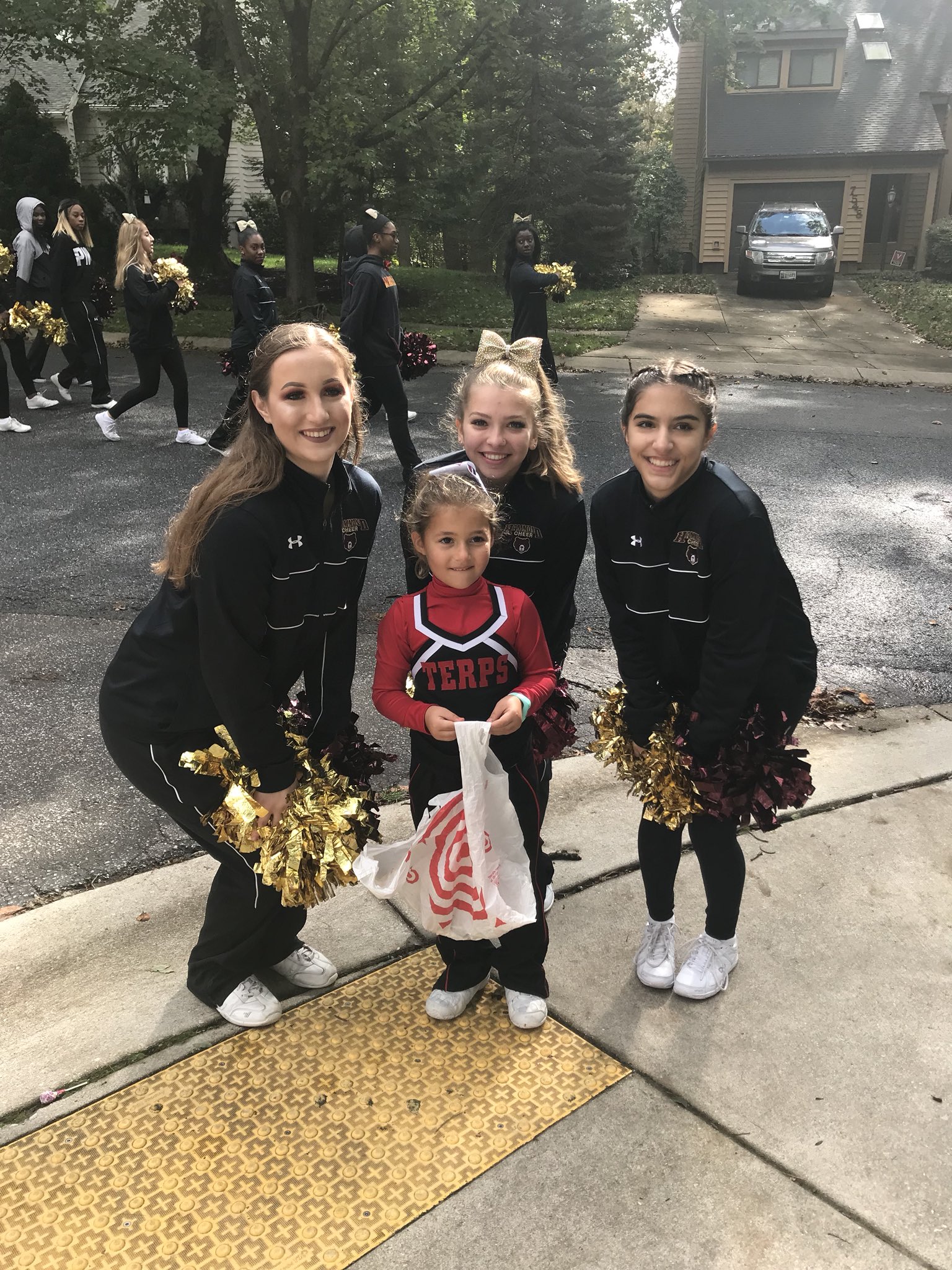 Much more work goes into competitions than in any other performances, confirms Esmeralda Puga, "Our competitions are different than what we do at pep rallies and games. Competitions are a whole routine, and they require more work than just cheering and doing a dance at pep rallies. There's a lot that goes into [competitions]. [At practice], we run the routines, work on stunts, work on the specific [moves] we need [to improve upon]." This work does not discourage the girls, but rather allows them to grow closer. "[Even though they require a lot of work], competitions are fun to do…" Esmerelda says.
Learning new material is more difficult for some people than others, but that is never a problem, as the girls on the team make sure that everyone is on the same page, says Junior and cheer captain Ananda Annan. "[It is difficult] for some people, so we like to slow it down and we always make sure that something makes sense and that [everyone] gets it, so that if they're not getting it we can help them individually…We all know what's going on, we know what to do."
The process for learning new material is quite extensive, and to be successful at their competitions the girls have been learning more complicated routines, as they are judged on many aspects, one being level of difficulty. Individual team members cannot only rely on practice days to learn material, but need to practice during their own time.
The captains of the squad not only have to learn the new material themselves, but have to teach it to others as well. Esmeralda explained the process. "Since we have four captains because there's 24 girls, we sometimes split into groups. It's easier to learn with less people, but other than that, [the coaches] also send videos of [the routine] and expect you to learn most of it at home so that you could practice [specific parts you need to]."
Freshmen and Juniors on the Varsity squad have expressed that the biggest improvement of this year is the teamwork and bond the girls have shown.  "We're a lot closer this year, and we work better together now and we have each others backs," Freshman Briangela Strull commented. "If you work together better, then it will better the team overall and [performances] are just going to go a lot better at a competition or a game," added Junior Kenzie Waleurgur.
The girls have to be focused and attentive the entire time they are performing, as one mistake can throw the entire squad off. This in fact allows them to become even closer, as they help one another so they do not mess up during performances, Strull says.
The teamwork, focus and determination of the squad will help them in tackling the difficulties of their fast-approaching competitions.