By Jariah Nash
Staff Writer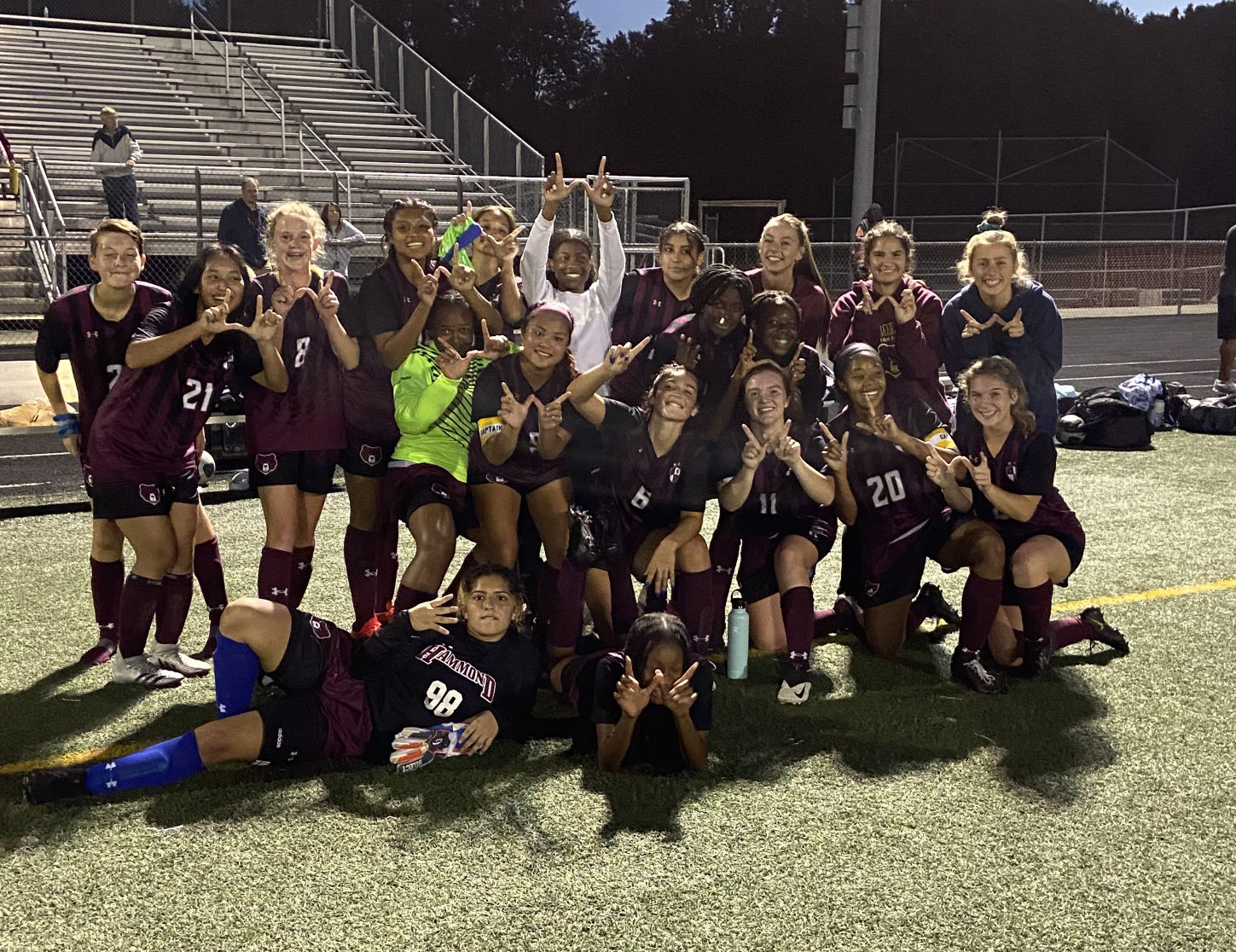 Image Source: @HaHSWSoccer on Twitter
When it comes to soccer, Hammond's program has a strong group of girls. With the soccer season coming to an end, it is always such a bitter-sweet moment for the team. There is no doubt that Hammond's girls soccer played their best games this season.
The soccer team only had one win this season, but even with one win they grew as individuals and as a team.
This season, Hammond's soccer program had 10 seniors. The Bear Press got the opportunity to talk with some of the seniors and ask them questions about the season overall.
Senior Caroline Schierer commented, "My favorite moment from the season was winning the game against Wilde Lake. In my four seasons at Hammond, we had never beaten a team in Howard County." 
Many of the players were very excited about the win against Wilde Lake. A lot of the players were especially psyched about the saves junior Angela Neira did during the game as the goalie.
"My biggest goal for the season was to have fun, which I think we definitely achieved. I got injured partway through the season and wasn't able to achieve all of my goals on the field, but I'm glad I was still able to have a good time with my teammates in my last soccer season at Hammond," Schierer continued. 
Senior Milana Newby commented, "My goal for this season for myself…was to become a better captain now that I am a captain this year and [to] help lead my team. I think we're all very close and we all have the same ideas and we've all played before and so it's just about working and building on what we were from last year and just improving each year."
Coach Molly commented, "A notable, challenging game was at Howard High. Our two goalies came out of the game injured. Brooke Kolheim and Caroline Schreier aggravated a knee injury early in the second half. To prevent and overuse knee injury herself, Angela Neira donned the goalie gloves and freshmen Micah Settles and Aryann Koroma stepped into defensive positions." 
"Seeing the team work together as a unit invigorated the team to know that we had learned so much about each other in a short period of time," she added. 
There is no doubt that Hammond's girls soccer team played their best games this season. It is a bitter-sweet moment to see so many seniors leave the program, but we are thankful for all of them who have made Hammond soccer a success over the years.